F.Stokes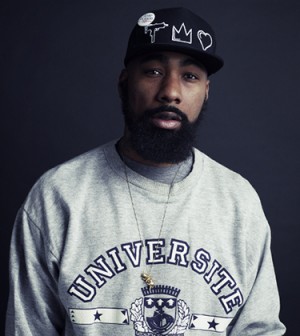 Nonjudgemental Chicago wisdom with worldly sensibility has made F. Stokes potently effective with his rhymes
"I love it. I love every second and minute about it. You know what happened with Chicago? These kids figured out how to use YouTube and became the biggest show in the world. Labels saw the traction that these kids were generating and the interest they were generating. Of course, they were looking for a way to monetize that. I think it's amazing that for the past two or so years, the South Side has had the greatest show in the world for YouTube. That show means showing off those guns or putting together videos in their mother's living room. These are historical moments on the internet and I'm just excited for them." 
As the upswing of Chicago violence has become a talking point for mainstream media, its Hip-Hop movement has as well. Chief Keef, Rockie Fresh, Lil Reese and more have lent their poignant point of view to life in the Windy City's SouthSide. Lending a wiser perspective is rapper and spoken word artists F.Stokes whose career has taken him around the globe thanks to intelligent projects like Death of a Handsome Bride and Baked Goods. F.Stokes now hopes to bring change to his city through the introspective and socially conscious Fearless Beauty project. In this On Wax Magazine exclusive, the Chicagoan talks Fearless Beauty's first single "Carpe Diem," appearing in MTV's Made, growing up in a whorehouse and more.
On Wax: Hows your day going?
F.Stokes: So far so good man. I'm up in Oregon looking at the mountains.
On Wax: What are you doing in Oregon? Is it work or vacation?
F.Stokes: I'm doing this reality show through MTV called "Made." They have me out here in the mountains trying to coach some kid who's trying to become a rapper.
On Wax: Oh cool. How did that come about? Are you using that as apart of your promotion plan for the new project?
F.Stokes: The show actually has though in terms of promotion, it wouldn't come out within the window of now and working within the album release. It's coming out within the next couple of months and I have some things planned around the time of that. It's more of a situation from where its released somewhere in September or October and I plan a marketing plan around it. I'll probably release a mixtape or a few singles around that time.
On Wax: For those who don't know who is F. Stokes?
F.Stokes: F. Stokes is a black man in America trying to make it man.
On Wax: Talk about your Fearless Beauty project for a moment.
F.Stokes:Fearless Beauty is two things. It's a conversation that I'm having with the South Side of Chicago. That's where I was born, raised and gained most of my values. Throughout my short career, I feel as though I haven't embraced and celebrated South Side Chicago enough honestly. I'm excited to go back and reach those people. I can do it without me trying to sound cool regarding the negative aspects but now its more from an elder perspective. After traveling, touring and being around different demographics; oddly enough, it allows me to be closer to those kids on the South Side.
It's like leaving home to go to college and getting homesick. Your college life is cool and diverse which is wonderful but I want to go back to aunties soul food.
On Wax: How does "Carpe Diem" fit into that equation?
F.Stokes: "Carpe Diem" is some straight pimp shit. Like stone cold. Man that shit is so pimpin. When I was young, my step-father was a pimp and at any moment, there could be like six prostitutes sleeping in the living room. Like we wake up and they'd be working. When I would go to school in the morning, these women would be taking these power naps on the way to kitchens so I would have to jump over them and they became good friends of mine. "Carpe Diem" was almost created at that moment when I was nine or eleven years old watching the way pimps really moved. Pimp culture in Chicago is obviously big but it's also a complete lifestyle. So it's not just the activity of pimping a women or having a prostitute working for you for money. It's how you hold your drink, it's how you wear your shoes, or how you drive your car. It's how you wear your clothes and communicate with your friends; it's a complete lifestyle. Part of that lifestyle is having women work for you. All together man pimpin is complete confidence and self awareness.
On Wax: How did your mother take to that?
F.Stokes: My mother was trying to survive. She was trying to put us in a better position. Everything she's ever done has been relative to the situation. My mother is my best friend or a sister. We have a really interesting relationship because early on it was like three stages. She was my mother, then she became my sister, then she became my daughter. I say that with all respect is that she has enough respect in me to confer with me for most things. Part of her method to survive is to get next to someone who knows exactly what they're doing. I know exact what I'm doing. My step-father had to pimp women to be able to afford basketball camp and for my sister to graduate. She stood next to him because he knew exactly what to do in order to get money. She's like a ninja or sensei. It's really interesting but she made it happen.
On Wax: Looking back do you feel bad or even consider the exploitation of women?
F.Stokes: Listen; it's not a value system that I live by at all. It's not something that I necessarily embrace or champion. I'm a defender of women but when you grow up in that environment, there's no babies and everything is fair game. It's for survival and from the outside looking in, it looks chaotic and depressive along with a bunch of other negative things but we're all surviving. I look at it as life in the ghetto. You have to be involved with that situation to truly understand it. I can't give you a reason as to why my friends kill each other. If you're in that situation, then you can understand. You can see how that 14-year old mother depends on a pimp for security and a place to stay in that sense of having a father. You can see how a thirty-year old grandmother is allowing this pimp to use her home as a whorehouse because she needs someone to pay the bills. It's just people surviving.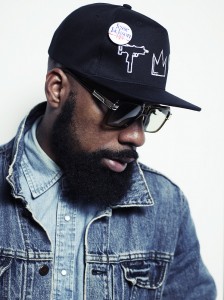 On Wax: How do you feel about the rise in Chicago Hip-Hop from Chief Keef, Lil Mouse, Lil Reese to King L?
F.Stokes: I love it. I love every second and minute about it. You know what happened with Chicago? These kids figured out how to use YouTube and became the biggest show in the world. Labels saw the traction that these kids were generating and the interest they were generating. Of course, they were looking for a way to monetize that. I think it's amazing that for the past two or so years, the South Side has had the greatest show in the world for YouTube. That show means showing off that guns or  putting together videos in their mother's living room. These are historical moments on the internet and I'm just excited for them. It's brilliant because these kids want to make it so bad. It's like what Detroit did wit Motown. Now my cousins see that they could possibly make it out the ghetto through a rap song. It won't happen for most of them obviously but that spark is brilliant. I wish people would give them more respect. They're more young prophets to me than young gangstas. These kids should be embraced, hugged and supported.
On Wax: What happened to Chicago and why now has it become a hot bed for violence?
F.Stokes: It just didn't happen overnight and it's been going on for a while. You talk about the crack epidemic in the 80s and it just wasn't the South Side of Chicago. I think what separates the South Side from anywhere else are the organized gangs. We have over fifty gangs that are well organized so it's not just a bunch of young rebels running wild. It evolved into a sense of organization and corrupted values. That's when the violence became a bit more obvious and example setting. That's probably the key separation.
On Wax: In your opinion, what needs to happen? It seems more systematic considering that 50 schools were closed in the city some time ago.
F.Stokes: I think it starts at home. It starts with the mother and the father. Having somewhat of a foundation. These kids come from completely broken homes man. Like whenever a twelve-year old kid has to help his mother pay the bills, that within itself changes the dynamic and respect factor. At that point, that kid is equal to his mom and dad. This just on a survival basis. When you got 15-year-old kid running the household, it's not productive. It doesn't foster an environment where they can learn and make mistakes. They're like adults right off the bat. I think it starts with us appreciating and valuing relationships. You get that girl pregnant, make her your wife. You work on making that family structure. It doesn't have to be a nuclear but some kind of structure needs to happen. Mothers being mothers and fathers being fathers to their sons. What happens when the father is in his late 20s with a fifteen year old son and they're both in the same thing or are in opposite gangs? It's just a mess man. It's like the 80s again.
On Wax: Have any thoughts on Kanye's Yeezus project?
F.Stokes: I heard it two days ago and I think it's dope. You know it's hard and I think Kanye is probably angry. Rather rich or poor feeling invalid or like you don't belong in society I think is pretty consistent. He has the platform for his message to be amplified at bigger levels. I think that the timing is perfect and couldn't be more on point. It's awesome that he has Chief Keef and King L on the album because he's always reaching back to Chicago.